Anja Brinich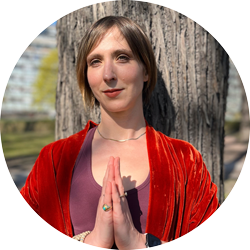 Anja Brinich is a Vinyasa yoga teacher (RYT-200) and entrepreneur who divides her time between Oslo, Norway and Lesvos, Greece. After years as a casual practitioner, Anja's journey to a deeper, daily yoga practice began when she joined Leela Yoga (Oslo) in 2014. In the ensuing years, yoga played a key role in helping her cope with a slew of transitions and transformations - motherhood being foremost among them.
Through both its revelational philosophy and its physical aspects, yoga has helped Anja tap into a level of self-acceptance, discipline, and physical strength she never before thought possible, and it is now her heartfelt wish to help others to find similar peaceful empowerment.
Anja is a graduate of the Mystica Yoga School and the Atman Yoga School (both based in Norway). Developed by Tonje Næss and Kate Murphy, Mystica Vinyasa is a holistic approach to physical yoga practice based around the pagan Wheel of the Year. As the seasons change, so do we - so each Mystica flow focuses on what we need physically and spiritually during a particular time of year, incorporating chanting, pranayama, mudras, chakra work, and asana. Each flow embraces the cycles of nature and is specifically tailored to one of the four seasons, gently guiding the practitioner to re-align and reconnect with the rhythms of the Earth as we move through its annual transitions.
Developed by Jessica Winderl, Atman Vinyasa is a fluid and dynamic style of Vinyasa yoga that is supported by the wisdom of ayurveda and yoga philosophy. It incorporates creative sequencing and inspiring themes in a breath-centered, flowy practice that is kind to our individual anatomy - because "We want to be doing yoga when we're 90!".
In addition to her budding career as a yoga teacher, Anja is the sole proprietor of ALB Translations and a co-owner of Symposion, a cafe-used bookstore-cocktail bar in Molyvos, Greece.
Freelance Translator, ALB Translations/Anja Luise Brinich ENK Yoga Instructor, AB Yoga/Anja Luise Brinich ENK Co-Owner, Symposion
Contact
Email: anjabrinich@gmail.com
Instagram: anja.brinich