Elpida Petrovits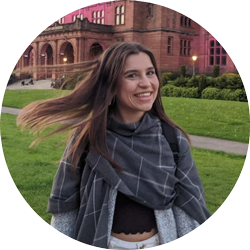 Elpida strives to offer an inclusive and safe space for yoga, community and honest conversation. What brought her to yoga was a longing to reconnect with her body and mind. The practice of yoga helped her discover how to treat herself, but also how to treat the people around her. Elpida completed her Yoga Teacher Training in Cardiff, Wales.
'My focus is on developing a strong sense of self by connecting body, mind through breath work and playful flows.'
Elpida is fluent in English and Greek, she spent the first years of her life on the island of Lesvos until she moved to her mother's home country, Wales. A few years later, she graduated from Cardiff University in a psychology based undergraduate. Following this, she moved to Glasgow for further studies, volunteering and work. Elpida has worked in various guises, most of which include projects aiming to improve awareness in mental health, promote wellbeing and support community empowerment.
'My class is designed to expand your range of movement, develop your flexibility and build your strength, through a dynamic vinyasa flow.'
As a practitioner and a teacher, Elpida endeavours to offer a soul nourishing practice. Elpida will compose creative and mindful movements supporting you to connect your body, mind and breath.
Contact details: Instagram: @elpidapetrovits
Facebook: Elpida Petrovits
Email: elpida.petrovits@outlook.com
Phone Number: +447376074323