Hara Ververi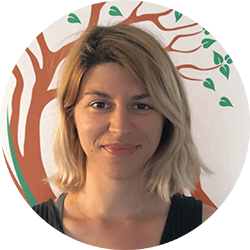 Hara was born in Sydney, Australia but her heart belongs to Mytilini where she lives.
From a young age she competed at high levels, at the age of 18 she wanted to find alternative ways of approaching the body, so she fell in love with dance, something she is involved in until today.
She got involved with yoga which revealed her the potential and grandeur of the human body and spirit. She was lucky to meet worthy teachers and they imparted all their knowledge to her. She studies at A.F. in Athens where she was certified with the first 200hr. Alongside her teachers, she has been certified at 600hr in which she has worked with: Hatha Yoga, Vinyasa, Asthanga, Yin yoga, Prenatal yoga, Restorative yoga, Meditation, Pranayama and continues the development herself even further. She now runs a yoga studio in the center of Mytilene under the name "Hàra Yoga Center".
She states that "A man is rich when he meets great teachers and can provide him with the right knowledge, love and values".
For more information:
Facebook: @Chara.yoga
Instagram: Hara yoga center