Leo Dherte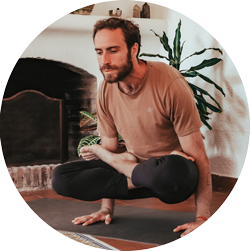 "Leo, a certified yoga teacher, radiates a profound passion for movement, adventure, and the transformative power of yoga. His yoga journey began in 2016 as an escape from the pressures of city life and a demanding full-time job, becoming a transformative path that not only helped him navigate challenging times but also provided strength and resilience. In 2021, Leo completed an Ashtanga Vinyasa teacher training in Andalusia, further expanding his expertise.
Leo's teaching style seamlessly blends invigorating flows inspired by Ashtanga, Vinyasa, and hot yoga with slower-paced sequences, allowing for harmony and stillness within his creative practice. As an avid rock climber, Leo integrates his love for climbing, hiking, and yoga, infusing his teachings with adventure and connection to nature. He organises Gati Yoga Retreats on our beautiful island of Lesvos, where participants can experience the power of yoga amidst breathtaking surroundings.
Recently, Leo also pursued a course on mindfulness to deepen his interest in personal growth and to guide his students toward inner peace. His unwavering love for Greece, particularly Mytilini, where he spent his summers growing up, is a testament to his profound connection with the country.
Join Leo for an experience of strength, serenity, and self-discovery. Embrace his dynamic flows, discover stillness, and enjoy the fun and natural approach he brings to the practice of yoga."
Instagram @gati.yoga.retreat
gatiyoga.eu
gati.yoga.retreat@gmail.com